Gerry Duggan talks about working with artist Reilly Brown to take Wade Wilson into the realm of Infinite Comics!
By TJ Dietsch
Deadpool might rely more on traditional instruments of destruction when it comes to the whole mercenary thing, but that doesn't mean his adventures can't be presented with the latest technology.
As such, January 2014 will see the release of DEADPOOL: THE GAUNTLET, a brand new, 13-part Infinite Comics adventure written by regular DEADPOOL co-writer Gerry Duggan and drawn by CABLE & DEADPOOL artist Reilly Brown.
The two creators will not only usher Deadpool into a new era technologically, but also kick start a new mission that finds the Merc with a Mouth working for an unexpected employer: Dracula.
"It's not unpleasant exactly," Duggan says of Deadpool's meeting with the legendary vampire king. "After the events of 'The Good, The Bad, and The Ugly,' Deadpool will have really had it with most basic human interactions. Dracula, is at least not human, but Deadpool's not in the mood for people anyway. The gig Dracula has Deadpool in mind for isn't one that comes with any moral quandaries. He's essentially a courier in this role."
While Duggan remains quiet on what exactly the job entails, he did explain one reason why Dracula wants Deadpool for the job.
"Dracula has some decent reasons for asking Deadpool to collect this package for him," he promises. "His inherent resistance to mind control is of some importance."
Since THE GAUNTLET already deals with a pair of familiar faces from the Marvel Universe, it stands to reason that a few more might appear.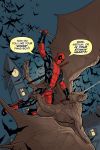 Deadpool: The Gauntlet #1 cover by Frank Cho
"You'll see a few pals show up as well as some very cool and currently under-utilized characters from the Marvel Universe," Duggan says. "I should say no more, or lest I take a blade to the heart."
Switching gears from content to production, Duggan says the Infinite Comics format offered some interesting challenges and also notes how this new venue can introduce new readers to a whole different universe.
"It's fun to try new things," he explains. "It's not a comic, it's not a cartoon, it's not a web comic. An Infinite Comic is a new medium for tablets, and I was excited to try it. Luckily [editor] Jordan D. White and Reilly are making me look good. On a personal note, as a kid, I didn't find comics in a comic shop. I found comics in a checkout line, a gas station; I found them at the newsstand. These are all places where comics are now extinct. Infinite Comics has a chance to be someone's first comic experience. These are new fans that might fall in love and walk into comic shops; so we spent a lot of time working on these 13 chapters of DEADPOOL: THE GAUNTLET. If you've been enjoying DEADPOOL over in Marvel NOW! you'll dig this too, but it's also designed from chapter one to be an easy place for anyone to jump in."
Regular DEADPOOL readers will also want to remember that THE GAUNTLET will feed directly into issue #27, which Duggan co-writes with Brian Posehn.
"Well, that would be telling," he says of how the Infinite Comic leads into the regular series. "However, Deadpool has had a rough year. Brian and I have found other ways to hurt a man that cannot be killed. The events of 'The Good, The Bad, and The Ugly' will stick with Deadpool for a very long time, and inform his sometimes impulsive decision making. THE GAUNTLET is his vacation away from a human race that seems to only want to hurt him. Whatever we have planned for #27, it shares roots with everything we've been working on."
The writer also explains how working with Brown allows him to structure his scripts a bit differently than he does on the regular book.
"Reilly's creator owned work in that area was a security blanket for me," Duggan says. "I also loosened up and gave him some detailed outlines, but asked him to more or less work Marvel style, which I had only done once with Brian and Scott Koblish on DEADPOOL #20. It's a lot of fun."
The Infinite Comic actually dates back to the original pitch that Duggan and Posehn made when talking to Marvel about writing DEADPOOL in the first place:
"Reilly's return to Deadpool is great news for Deadpool fans—something I've been asked about on Twitter actually," Duggan adds. "Reilly is a hell of an artist in any medium, but his expertise in tablet comics means I'm on his coattails. He was thrilled with the bullet points we have him at the beginning, and it might be of some interest, but the basic premise of the THE GAUNTLET was one of the original ideas that Brian and I submitted when we were hired. It was of course re-worked heavily to be able to tie-in with our first year of DEADPOOL, and make the most of this new medium, but maybe in another universe the core of this story appeared in print last year instead of one of our other arcs. We're excited to finally be talking about it."