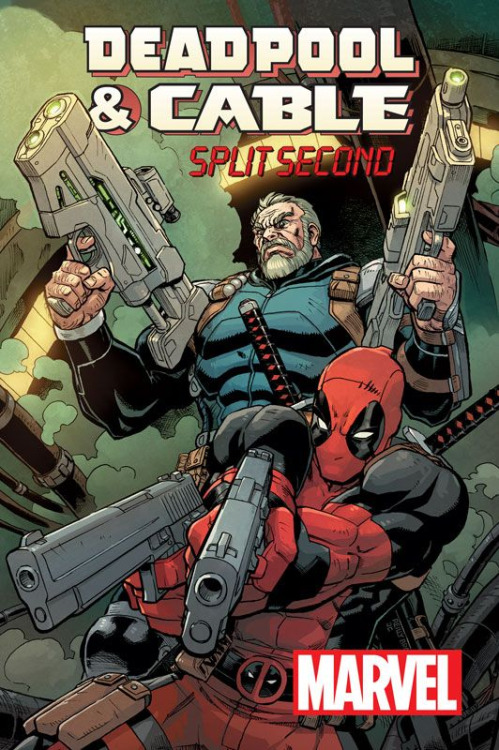 li-izumi:
reillybrown:
At long last, Cable and Deadpool are back together again! And it's been great to team up with Fabian again as well, as we take the ol' boys out for a spin in the Infinite Comics realm.  We're really going all out to make this story something really cool, and something that really takes advantage of the digital format in some unique ways– doing things I didn't even try in The Gauntlet! We're having a complete blast with this!  You can check it out over at Comixology.
If you can get it, I really highly recommend you all check this series out in the digital format. I just finished reading it and really enjoyed it. (So glad I decided I couldn't wait for the print version! The digital was a really great experience, really taking advantage of the format).
I don't know yet where this story fits in terms of the All New All Different storyline, but Deadpool is alive and still married to Shiklah (although still rather tumultuously. I've got more to say about their relationship, but that's for another time). Anyway, Deadpool's working with Agent Adsit and Preston, and even Bob is around helping out. Things are more or less seems to be going mostly well.
So that's naturally when his ex comes back in town with a gun to his head.
(Interesting point: Deadpool calls him "Cable" and not "Nate" like he usually calls him)
I'm super exciting about this story, and so far I'm loving it. The story is interesting so far and the art is great. Reilly Brown is probably one of my favorites for drawing Deadpool.
Highly recommend!
Don't worry, if you can read tumblr, you can read Comixology.  You can get the digital version of the comic here. 
As for where this story fits in the overall timeline of Cable and Deadpool, that will all be pretty clear as this series, and any other series that the characters pop up in, progresses. Glad you enjoy it!
from Tumblr http://ift.tt/1Mdmrq9 via IFTTT